Please note: The information below is subject to the Corona Ordinances in effect. As soon as the measures for the upcoming event in May 2022 are determined, this page will be updated accordingly.
Health and Safety Concept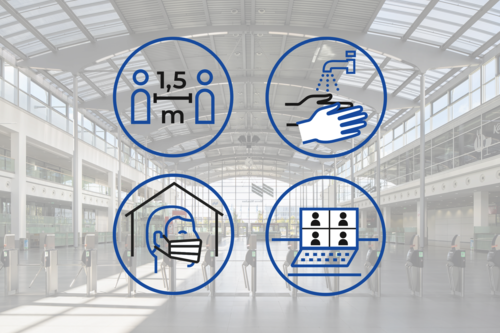 In addition to hygiene measures such as maintaining distance, higher cleaning frequencies and increased ventilation of the exhibition halls, the wearing of masks (currently FFP2, please note the changing regulations) and contact tracing are specifications for the event. You will find information about the valid VCR concept here as soon as possible.
All current information on developments in connection with the Coronavirus, as well as leaflets and FAQs for various target groups can be found on the website of Messe München .
Access to the event site
To ensure full traceability of all participants during setup, the event and dismantling, all persons entering the premises must register. You will find the link to the set-up and dismantling registration here in April.
Our hygiene concept will include VCR (Vaccinated, Checked, Recovered) or 2G proof. The 2G proof will be requested during online registration and can be uploaded directly. Afterwards your ticket be activated for access.
If you do not upload a proof, the ticket is initially blocked for access. Please either upload the proof later in the ticket shop or bring your proof in digital form (vaccination, recovered or test proof according to EU standard) and plan sufficient waiting time for the on-site check!
Testing
You can take a test at one of the many centers near your hotel, upon arrival at Munich Airport, or at one of the test centers in downtown Munich: Coronavirus rapid test in Munich - all sites and information .
A list of pharmacies offering rapid tests can be found here .
Contact-tracing Procedure
During the exhibition, set-up and dismantling, all event participants who enter or drive onto the exhibition grounds must register via the ticket shop. The name, address, telephone number and e-mail address of the registered persons and the times of their presence on the exhibition grounds will be recorded.
The data collected via the ticket shop will be used exclusively within the framework of the hygiene concept and, if contact tracing is required, will be forwarded to the relevant health authorities on request. The retention period for this is one month, after which the data will be deleted.
To ensure contact tracing on the exhibitors booth space, we recommend that exhibitors book a Scan2Lead license from the company adventics GmbH. Further details are available via the Exhibitor Cockpit.
At various points on the exhibition grounds, contact tracking will additionally take place via the Luca App. To avoid waiting times, it is best to download the Luca App before the event.
We look forward to seeing you again at The smarter E Europe 2022!
If you have any questions, please feel free to contact us:
+49 761 3881-3700