Industry News – Wednesday, September 23, 2020
ABB, a global technology company has won a contract with Guangzhou Shipyard International Ltd for supplying a full scope of integrated solutions for P&O Ferries' two new vessels. Scheduled to set sail in 2023, the ferries will travel between UK, the Republic of Ireland and north continental ports.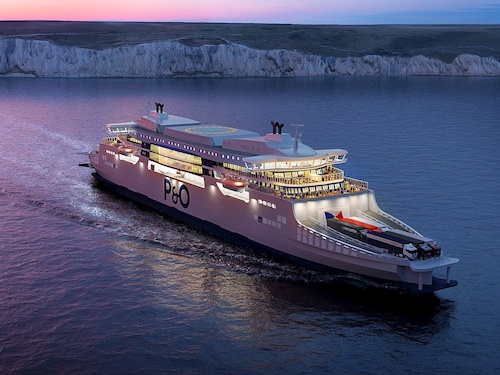 Equipped with four Azipod® propulsion units per vessel, each rated at 7.5 megawatt, the 230-meter-long vessels will be the largest passenger and freight ferries ever to sail the route.
The hybrid propulsion solution, using electric power from 8.8MWh batteries and diesel generators, will cut fuel consumption on the Dover-Calais route by 40 percent. The batteries will provide full power for harbor maneuvering and stay in port.
The vessels' engines will be equipped with ABB's Power2 two-stage turbocharging system that will further improve power efficiency and help achieve up to five percent in fuel savings. In addition, the Power2 system will help reduce up to 60 percent of nitrogen oxide emissions.
"The P&O ferries under construction at the Guangzhou Shipyard International are truly iconic. We are delighted to strengthen our strategic cooperation with the technology leader ABB and to work together on this leading-edge project, considering ABB's proven supplier status in the global ferry market," said Mr. Zhongqian Chen, Chairman of Guangzhou Shipyard International.
The benefits of bridge-to-propeller integration proved decisive in selecting the hybrid solution for the new ferries, according to P&O Ferries.

Source & Image: ABB | new.abb.com
The ees International Magazine is specialized on the future-oriented market of electrical energy storage systems, not only from a technological-, but also a financial and application-oriented point-of-view. In cooperation with ees Global, the ees International Magazine informs the energy industry about current progress and the latest market innovations.