The smarter E Podcast Episode 35 | January 21, 2021 | Language: German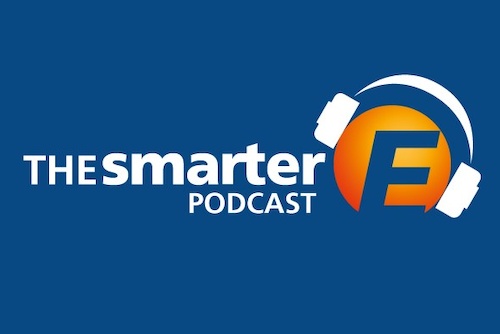 The year 2020 could indeed go down in history as the year in which electromobility began its triumphal march. Pure electric cars are more sought-after than ever, with the total number of newly registered passenger cars with pure electric drive systems rising by more than 200 percent compared to the previous year. But how sustainable is the development? And what are the possible reasons, but also obstacles, to a future dominated by electromobility?
Marcus Fendt, Managing Director of The Mobility House, and Checrallah Kachouh, Co-CEO and CTO of Compleo, tell us.
Timeline:
1.26: Looking back, was 2020 the year of electromobility?
4.30: What is the status quo for charging infrastructure?
10.15: On the IPO of Compleo
12.32: What disruptive power does electromobility have?
14.50: Will we soon see pure electric charging stations on a grand scale?
About The smarter E Podcast
The smarter E podcast is all about the current trends and developments in a renewable, decentralized and digital energy industry. Our moderators Tobias Bücklein and Zackes Brustik welcome and interview personalities who shape our industry and drive developments forward. A new episode is published every Thursday.
Click on the logo to listen to the podcast on the platform of your choice.
About Marcus Fendt and The Mobility House
Shaping an emission-free energy and mobility future - that is the goal of The Mobility House. Its technology links the automotive and energy sectors. The company integrates vehicle batteries into the power grid through intelligent charging and energy solutions.
In this way, The Mobility House promotes the expansion of renewable energies, stabilizes the power grid and makes electromobility more affordable. Marcus Fendt is Managing Director at The Mobility House and leads its fortunes.
About Checrallah Kachouh and Compleo
Compleo has been one of the leading manufacturers of charging stations for electric cars for ten years. With charging stations and comprehensive know-how, Compleo empowers its customers for electromobility. Large companies, operators and utilities rely on Compleo's AC and DC charging stations throughout Europe.
Active in the industry since 2009, more than 200 employees now work for the Compleo team. Checrallah Kachouh acts as co-CEO and CTO of the green tech company.
This Podcast Episode is Supported by