The smarter E Podcast Episode 58 | July 29, 2021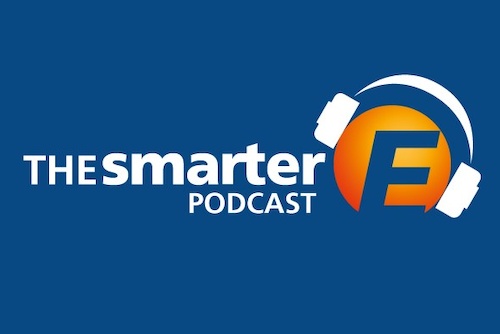 Electromobility continues to experience massive growth. Sales of electric cars are increasing and the expansion of charging infrastructure is also progressing. But what role does electromobility play in concrete terms and what action plans are there at all to pave the way to climate neutrality? What solutions are there for using renewable energies throughout the supply chain? And what is the Status Quo?
We talk about this with Dr. Sandra Wappelhorst, Senior Researcher at the International Council on Clean Transportation (ICCT) and Lisa Bolin, Climate Lead at Polestar.
Timeline:
4.14: What exactly are the Polestar plans for carbon-neutral cars?
8.22: About the CO2 reduction potential and associated estimated costs for current policies and three policy scenarios
16.44: What role does climate-neutral production, climate neutrality in transport and suppliers play?
21.02: Challenges: About the current charging infrastructure situation
About The smarter E Podcast
The smarter E podcast is all about the current trends and developments in a renewable, decentralized and digital energy industry. Our moderators Tobias Bücklein and Zackes Brustik welcome and interview personalities who shape our industry and drive developments forward. A new episode is published every Thursday.
Click on the logo to listen to the podcast on the platform of your choice.
About Dr. Sandra Wappelhorst and ICCT
The International Council on Clean Transportation is an independent nonprofit organization founded to provide first-rate, unbiased research and technical and scientific analysis to environmental regulators. Our mission is to improve the environmental performance and energy efficiency of road, marine, and air transportation, in order to benefit public health and mitigate climate change.
Sandra Wappelhorst is a Senior Researcher on the ICCT Europe team. Her current research focuses on financial and non-financial incentive systems for electric vehicles and the electrification of shared ride services. Prior to joining the ICCT, Sandra worked for various research organizations with a focus on urban development, the adoption of innovative mobility services, and user acceptance of electric vehicles.
About Lisa Bolin and Polestar
Polestar is a joint venture of the car manufacturers Volvo Car Corporation and Geely. Under the name Polestar Engineered, it acts as an in-brand tuner and has also been established as a private brand for hybrid and electric cars since 2017.
Lisa Bolin was until recently a life cycle analysis expert at Polestar. In her new role as Climate Lead, she is now developing action plans to pave Polestar's way to climate neutrality and looking for solutions for the use of renewable energy throughout the supply chain.
This Podcast Episode is Supported by