Industry News – Friday, June 19, 2020
Two separate deliveries of pure-electric, 100% emissions free buses werde delivered to Sweden's largest bus operator Nobina this week.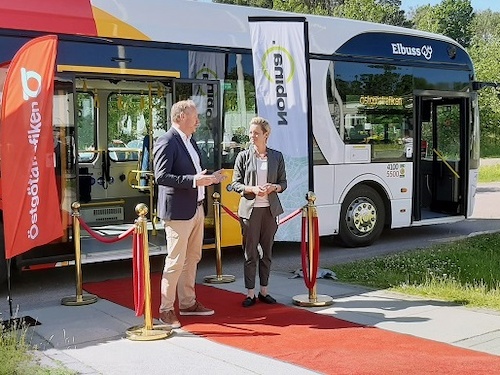 The vehicles, 34 in total, will join the fleets of Public Transport Authorities in the cities of Linköping and Halland. In the face of the coronavirus pandemic, the enhanced passenger capacity will help to improve the challenges of public transportation.
"Nobina is strengthening the position as the leading operator of electric and sustainable public transport services in the Nordics," said Jens Råsten, Fleet Manager, Nobina Group. "Where the technical e-mobility concept by BYD has proven to fit perfectly well into the high demands among customers and PTAs in the Nordics regarding flexibility, total transport economy, quality and reliability.
As of now, Nobina has 160 BYD eBuses in operation or on order. In total, nearly 300 BYD eBuses roam Scandinavia, providing pure-electric public transportation.
"Nobina is an excellent example of a forward-thinking bus operator – an operator that understands that a sustainable, pure-electric bus fleet can deliver high levels of productivity while appealing to more and more passengers who demand clean, sustainable public transport," says Isbrand Ho, Managing Director of BYD Europe.

Source & Image: BYD | www.byd.com
The ees International Magazine is specialized on the future-oriented market of electrical energy storage systems, not only from a technological-, but also a financial and application-oriented point-of-view. In cooperation with ees Global, the ees International Magazine informs the energy industry about current progress and the latest market innovations.