Industry News – June 29, 2021
Anyone who buys an e-car would prefer to charge it at home. In a survey conducted as part of the Energiewende Award 2021, 61% of the homeowners surveyed said that a private charging station was important to them.
Appropriate charging solutions are a future trend, especially those that use renewable electricity generated on site or optimally manage energy flows. Suitable innovative solutions are offered by the finalists of The smarter E AWARD, including two EV management systems from The Mobility House as well as Smappee and a Solar Car Roof from LG Electronics.
Live on site: If digital is not enough, our Power2Drive Restart 2021 exhibition is taking place in Munich in October. Convince your future partners of your new mobility solutions or inform yourself about innovations and new business models. Leading manufacturers are already registered: Keba, Webasto, Huber & Suhner, The Mobility House, Volvo, Polestar and many more
The Mobility House (Deutschland) The smarter E AWARD
"ChargePilot" - Intelligent charging and energy management for e-mobility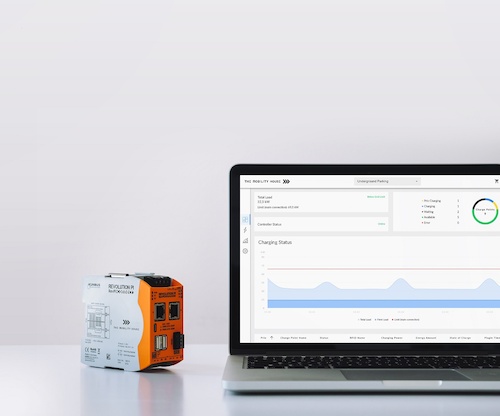 Intelligent charging and energy management, which distributes the available grid connection power to the electric cars to be charged in a cost-optimized manner, is becoming more and more important. Especially when several charging points are to be installed at one location or these are to be integrated into existing energy management systems, for example. An intelligent charging solution that can be scaled independently over time is therefore particularly important in larger residential buildings or at company locations.
A suitable product is the hardware- and software-based "ChargePilot" from the Munich-based technology specialist The Mobility House, which enables intelligent charging and energy management for e-mobility. The system optimizes the charging costs of a vehicle fleet by avoiding peak loads. In doing so, it can take into account the load profile of the building to whose grid connection the charging stations are connected. Time-shifted charging makes optimal use of the power generated by a PV system and charges a fleet of battery-powered vehicles efficiently and cheaply. The platform is compatible with the hardware of established charging infrastructure manufacturers and already meets all technical requirements for bidirectional charging.
Smappee NV (Belgien) The smarter E AWARD
Intelligent energy management during charging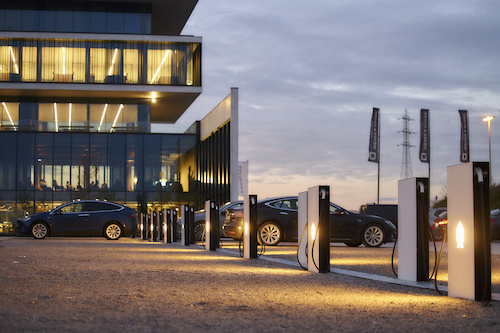 Belgian cleantech company Smappee is launching a new charging station for electric cars in the Netherlands that features an intelligent energy management system to maximize self-consumption of solar energy.
The "Smappee EV Line" adds an e-mobility component to the manufacturer's modular energy management system. It uses analysis of energy flows from PV generation and other components to optimize charging operations. A dashboard can be used to specify and monitor performance metrics related to economic goals such as self-consumption-optimized charging, as well as operational goals. "Smappee EV Line" can be integrated into an existing energy management system, but can also be used fully stand-alone - for example on a separate grid connection.
The EV Line charging stations are equipped with integrated Smappee energy management technology. They enable autonomous overload protection, optimized self-consumption and real-time transparency of charging costs. The charging stations also provide visibility and control over other energy flows within the building. Through the app and dashboard, users can view real-time charging and costs, and track an historical overview
The winners of The smarter E AWARD will be crowned on a virtual stage as part of The smarter E Industry Days being held between July 21 and 23, 2021. The AWARD ceremony will begin on July 21 at 3:00pm.
Further information about all nominated projects and products can be found here.