Expert Interview – April 19, 2023
The aim of Fraunhofer IAO's LamA® – Laden am Arbeitsplatz (Charging at Work) project is to make mobility future-proof, more efficient and more economical. The charging infrastructure installed contributes to grid stability by intelligently integrating the new charging points into the existing energy structure in such a way that they do not overload it. The project's objective is to advance and promote environmentally friendly transport and travel options for both companies and employees. In this interview, Felix Tröscher, Project Manager for the Installation and Operation of Charging Infrastructure at Fraunhofer IAO, talks about the project and workplace charging infrastructure in general.
Interview with Felix Tröscher, Project Manager for the Installation and Operation of Charging Infrastructure, Fraunhofer Institute for Industrial Engineering IAO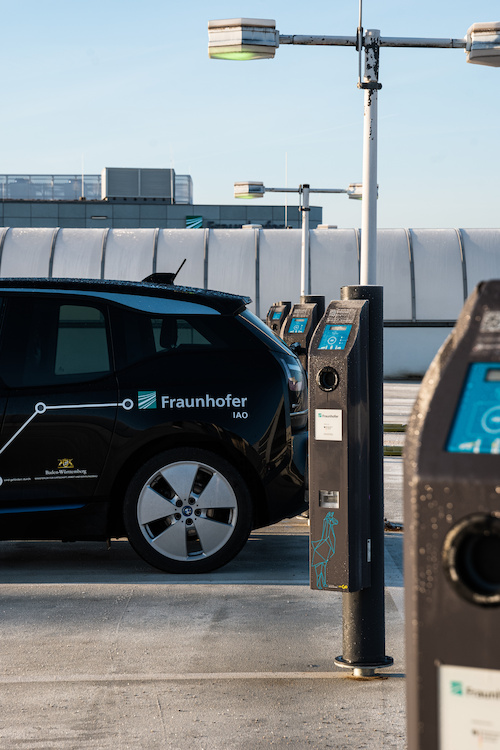 What exactly does Fraunhofer IAO's LamA® project involve?
Felix Tröscher: LamA®, which stands for Laden am Arbeitsplatz or Charging at Work, focuses firstly on the installation of charging infrastructure in locations with particularly high nitrogen dioxide levels and secondly on conducting research into this charging infrastructure. By researching various aspects over the past four to five years, our aim is to report findings of scientific value.
How are companies benefitting from the project?
A key component of the project is knowledge transfer. We hold knowledge transfer events in every location where charging infrastructure is installed as part of the project. We use these events to report our findings to interested small and medium-sized businesses and also invite companies that have already installed charging infrastructure so that they can share their experiences with the other participants. We have received very positive feedback from our visitors and we can use the experiences shared by the companies to keep developing the project.
How has the project been received within your research institute? Do employees actually use the parking lots or did they take a lot of persuading?
It's been very well received at our sites, partly down to the attractive price model. The lower electricity tariff means that even employees who can charge their vehicles at home prefer to do so at work.
Have you noticed an increase in the number of employees owning an electric car since the charging infrastructure was installed in your parking lots? And is there a seasonal difference between when the charging stations are used?
There are definitely more e-vehicles compared to the time when the project started, but it is difficult to weigh how much influence we have had by setting up the charging infrastructure. However, I am sure that we are at least making a contribution to changing people's minds about e-mobility.
How many charging stations are in operation and what charging powers are offered?
We currently have around 400 charging points. Of these, approximately 90% are AC charging stations offering 22 kW of power and 10% are DC charging stations offering up to 150 kW of power.
What happens when all the charging stations are in use?
To date, supply has always met demand. If this is no longer the case, we will take corrective action. Our initial aim was to establish a charging culture where drivers do not park their vehicles at charging points for weeks at a time. So far, our Hamburg site has been the only location to tell us that they've experienced difficulties. However, this was actually down to supply being overstretched as a result of the charging points being constantly occupied by vehicles from an external car sharing company. This goes against the LamA® model, which was primarily created for employees and company cars.
Employers also have an interest in workplace charging infrastructure. What do they need to consider during installation? And what obstacles or problems can arise?
Communication and coordination between the various stakeholders are crucial. The different trades and parties involved need to collaborate and must be actively approached and continuously guided through the process. Here, I'm not only referring to communication with the contractors responsible for the development of the site, excavation and electrical installation work, but also to the need to involve the works council, company management and external third parties in the process right from the start.
What tips do you have for companies that contact you because they want to install workplace charging infrastructure?
Don't make the same mistakes as other companies in the past. We're now in a position to refer back to the wealth of experience we've gained over the last few years. A good example of this is a multi-story parking garage in Stuttgart, where we installed a DC charging station in front of the garage but behind the barrier. We realized that this was a poor choice of location because it meant that the station could not be made publicly accessible. We've since rectified this by moving it to the other side of the barrier so that it can be used to a fuller capacity. We've also learned from laying the cable routes a floor lower, again at a multi-story parking garage in Stuttgart. And from installing charging stations with an output of 11 or 22 kW instead of 3.7 kW.
This increase in output was largely led by the market. The less powerful charging stations with a Schuko plug are no longer installed as standard and, in terms of energy, it makes little sense to charge vehicles at 230 volts. Charging stations are simply less efficient at this level. The AC chargers with an output of between 11 and 22 kW are for our use case study. Employees can plug in their cars in the morning when they arrive at work and drive them home fully charged in the evening. This is even the case for a Mercedes EQS with a 107 kW battery. Another benefit of these charging stations is that their output can be controlled when necessary. When there is a peak load in the power grid, vehicles can be charged with a lower output.
What are the most important steps and aspects involved in installing charging infrastructure?
The installation of charging infrastructure for electric vehicles requires a well-considered approach. The first step is to assess the current situation by analyzing potential sites, identifying suitable places where charging stations can be installed and inspecting the power supply currently in place. This stage is followed by detailed project planning, during which the number and type of charging stations are determined. Approval must then be sought from the authorities, for example to perform the building work and connect the infrastructure to the grid. It is then time to install the charging stations in accordance with the planning specifications and technical requirements. Finally, the payment and billing systems must be set up so that the charging stations can be put up and running. Maintenance, inspections and customer service all form part of the ongoing operation of the charging infrastructure. Careful planning, close cooperation with the authorities, expert installation and regular maintenance are all essential for the operation of efficient and reliable charging infrastructure.
The project was wrapped up at the end of 2022. Is there a plan in place for it to continue?
Although the project funded by the German Aerospace Center (DLR) has ended, the idea behind LamA® will continue to be implemented both within and outside of the Fraunhofer institutes. Firstly, it goes without saying that we want to continue operating the approximately 450 charging points installed to date. There is a clear demand for this among the institutes and the users who have become accustomed to charging their vehicles at work as part of their daily routine. Secondly, we want to make sure that other research institutes, municipalities and companies benefit from our expertise so we can continue to drive forward e-mobility.
In your opinion, what sticking points are causing some people to remain skeptical of e-mobility?
The general public are still largely unaware of all the technical advancements that have been made in recent years. For example, vehicle range has increased and driving an electric car in winter no longer poses a problem. This means that the electric vehicles currently available on the market are ideally suited for the vast majority of cases in which vehicles are driven. Having said that, the bold vision of everyone in Germany driving an electric vehicle cannot be achieved overnight. It will take time to replace the 50 million cars on our roads with electric models – despite the likelihood of other future mobility concepts reducing the overall number of vehicles being driven. Nevertheless, we're moving in the right direction in principle and we must now make the change from internal combustion engine to electricity, while simultaneously building the necessary infrastructure. As well as installing the charging infrastructure, this will require us to determine where the electricity will come from and which power lines to use.