Industry News – Wednesday, May 06, 2020
The Swedish city of Jönköping has ordered ten complete charging stations for buses by ABB to further fossil-free transportation, reducing emissions by about 1,000 tonnes of CO2 per year.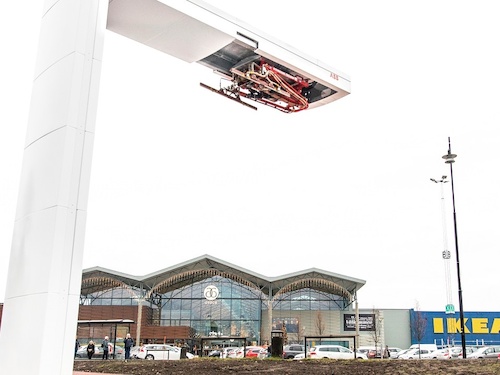 After the succesful pilot project of electrifying the city's first electric bus line, Jönköping Energi and ABB are now cooperating to bring around 45 electric buses on the streets by providing a high-performance charging infrastructure. Therefore, the ABB modular 450kW pantograph down chargers will be installed to recharge the buses in five to seven minutes, using the time travellers need to get on or off. The bus companies can also monitor the chargers remotely.
"We are delighted that Jönköping Energi was satisfied with our first installation of electric bus chargers and that we have now been given the opportunity to supply another ten chargers. ABB has the products and solutions for delivering electricity from production to end-users in a safe, smart and sustainable way", says Frank Muehlon, Head of ABB E-Mobility Infrastructure Solutions.
The installation is to be finished in the first half of 2021, starting operations in the middle of the year.

Source & Image: ABB | www.new.abb.com
The ees International Magazine is specialized on the future-oriented market of electrical energy storage systems, not only from a technological-, but also a financial and application-oriented point-of-view. In cooperation with ees Global, the ees International Magazine informs the energy industry about current progress and the latest market innovations.