Industry News – Monday, May 18, 2020
Commercial vehicle manufacturer MAN is launching a new series of electric buses – the Lion's City 18E. Main features will include a loading capacity of 120 passengers, two electric central motors, and a maximum range of 270km in favorable conditions with a battery capacity of 640 kWh. Series production is planned for the first half of 2021.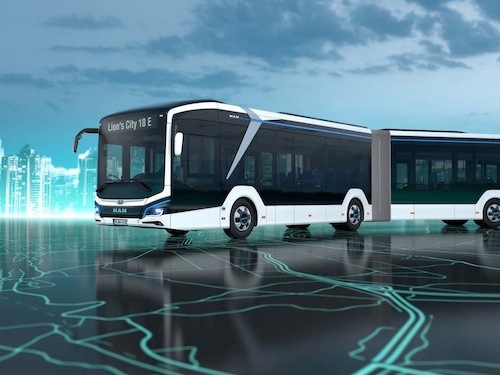 The Lion's City 18E will hold two central motors on the second and third axles that produce between 320 kW and 480 kW. The eight Li-Ion battery packs powering the central motors have a total capacity of 640 kWh. The batteries have an intelligent temperature management system. The batteries are charged via a Combined Charging System plug (CCS). With charging power between 100 kW and up to 150 kW, the articulated bus can be fully charged in less than four hours.
The two axles of the new buses are electronically synchronized and have an additional anti-jackknifing control and kink angle control system for more driving stability. Also, the energy recovered during braking is increased with the two driven axles.
MAN will run a testing program with 15 demo vehicles of the 12-meter electric buses to be deployed and practiced during 2020 in Germany, Spain, Luxembourg Belgium and France. The Lion's City 18E will be tested in Cologne and Barcelona.
"Measuring 18 meters long, the MAN Lion's City 18 E is the perfect choice for any company looking for an all-electric city bus, i.e. one that does not produce any emissions locally, with space for many passengers," underlines Rudi Kuchta, Head of Business Unit Bus at MAN Truck & Bus.

Source & Image: sustainable bus | www.sustainable-bus.com
The ees International Magazine is specialized on the future-oriented market of electrical energy storage systems, not only from a technological-, but also a financial and application-oriented point-of-view. In cooperation with ees Global, the ees International Magazine informs the energy industry about current progress and the latest market innovations.