Industry News –Thursday, November 12, 2020
Ricardo plans to develop 'digital twin' based design and optimization solutions for electrified powertrains, reducing hybrid and electric vehicle development time, cost, and risk. The company has been awarded £113,000 in funding for their digitalisation project by OLEV, the Office for Low Emission Vehicles - delievered through Innovate UK.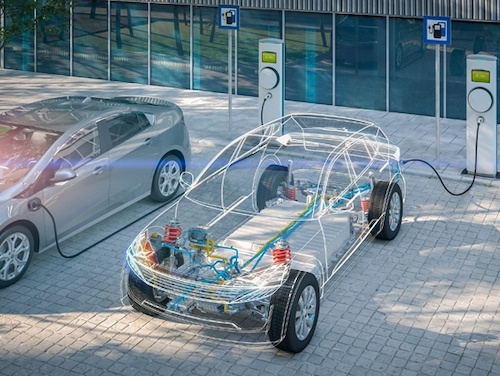 Ricardo's key objective for the project is assessing the digital twin techniques' impact on product development. Further, the company plans to evaluate the application of digital twin technology to in-service product maintenance. The project is expected to yield three innovations which will enable Ricardo to deliver clean and efficient propulsion systems: the definition of a digital twin for electrified powertrain sub-systems, simplified models using automatic model reduction, and the use of digital twins as part of a virtual product development process. It will run for the next six months.
A digital twin is an identical representation of a physical product that can be used for monitoring, simulating and optimizing design and assessing operational performance. The ability to test and optimize electric powertrains in a digital environment is expected to reduce the need for multiple prototypes.
Ricardo's head of digital engineering, James Mullineux, said: "We are very pleased to have received this award from OLEV through Innovate UK. Ricardo develops and delivers innovative sustainable, efficient and secure energy, environmental and mobility solutions and products. To realise this, we create products and services which are enabled by digitalisation and supported by applied innovation. Research and development are at the heart of everything we do at Ricardo. Taking a very focused approach to R&D means that, as with this project, we can leverage digital to find transformative solutions for vehicle manufacturers which add real value in terms of improved efficiency and quality, and offer very significant reductions in cost, time and risk."

Source: Ricardo │ www.ricardo.com
The ees International Magazine is specialized on the future-oriented market of electrical energy storage systems, not only from a technological-, but also a financial and application-oriented point-of-view. In cooperation with ees Global, the ees International Magazine informs the energy industry about current progress and the latest market innovations.