The smarter E Podcast Episode 91 | May 5, 2022 | Language: German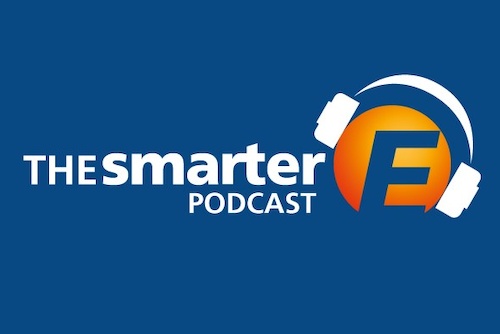 Due to the rising number of new registrations of e-vehicles, the need for charging infrastructure will continue to grow in the coming years and the grid integration of electromobility will become increasingly important. In particular, the successful integration of private charging infrastructure represents not only a challenge but also an opportunity for sector coupling if it can be integrated into the power grid in a way that serves the grid. On which points is there already a cross-sector consensus with regard to grid integration? What foundations need to be laid so that both the reliability and plannability of grid integration of private as well as public-access charging infrastructure is increased compared to the current status quo and technological innovations are given the necessary leeway? Markus Wunsch, Head of E-Mobility Power System Integration at Netze BW, reveals this and more.
Timeline
1.04: We are experiencing a massive ramp-up of e-cars. What does that mean for the grid?
5.30: About experiences from charging infrastructure projects of Netze BW in the private sector.
10.01: How important is grid-serving charging for the mobility transition?
18.23: Are the legal foundations for reliability and plannability sufficient?
21.15: About technical challenges such as local network transformers and smart meter gateways.
About The smarter E Podcast
The smarter E podcast is all about the current trends and developments in a renewable, decentralized and digital energy industry. Our moderators Tobias Bücklein and Zackes Brustik welcome and interview personalities who shape our industry and drive developments forward. A new episode is published every Thursday.
Click on the logo to listen to the podcast on the platform of your choice.
About Markus Wunsch and Netze BW
Since March 2020, Markus Wunsch has been in charge of Netze BW's activities relating to the grid integration of electromobility. The focus here is on the challenges of the mobility turnaround from the perspective of a regulated distribution grid operator.
Netze BW GmbH is the largest distribution grid operator in the EnBW Group. It operates the distribution network in large parts of Baden-Württemberg for the electricity and gas sectors. In the state capital Stuttgart and in some other municipalities, it also operates the water network.
Content Partner