Industry News – Thursday, May 06, 2021
As part of the expansion of its fast-charging infrastructure, energy supplier EnBW has announced another major project. The fast-charging park at Kamener Kreuz in North Rhine-Westphalia will be Europe's largest HPC (High Power Charger) site by the fourth quarter and will feature 52 charging points with up to 300 kW of power. E-car drivers will draw 100 percent green electricity.
Electricity for charging up to 100 kilometers in 5 minutes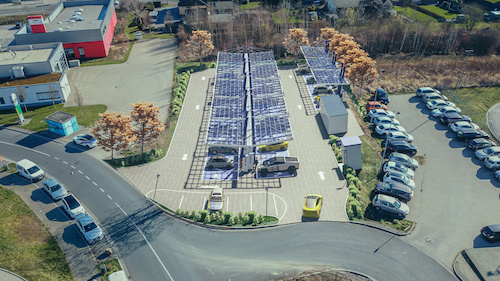 With 52 charging points, Kamener Kreuz is set to become the "flagship" of public fast-charging park in Europe. According to EnBW, the HPC charging points have a capacity of up to 300 kilowatts. According to the calculation, electricity for a range of up to 100 kilometers can be charged there in five minutes, depending on the vehicle. The charging stations in the new park will be covered and illuminated, and a photovoltaic system will supply the site with electricity at a capacity of up to 120 kilowatts and feed surplus energy into the local grid.
Goal: More fast-charging sites than gas stations by 2025
The location in Kamen demonstrates the quality and progress being made in the expansion of charging infrastructure in Germany, the energy provider said. By 2025, the Baden-Württemberg-based company aims to operate 2,500 fast-charging sites nationwide. That would be more locations than there are filling stations at each of Germany's leading petroleum companies. EnBW has an additional 50 major sites under construction or project planning and is planning a further 300 to 400 smaller fast-charging sites. It is investing 100 million euros a year in the nationwide expansion of the fast-charging infrastructure. Politicians are promoting such projects, because the nationwide provision of e-charging stations is a declared goal of the German government.